SHOW CONTENT
Vieux Carré Views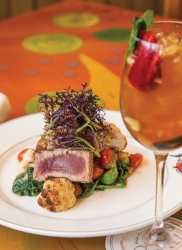 Vieux Carré Views
A beautiful way to spend a day in the French Quarter

KELCY WILBURN

A morning stroll along the Mississippi River is a great way to begin any day with sweeping views of riverboats, rushing water and open Louisiana skies. Right off the levee, the French Market (Barracks Street & N. Peters Street, 636-6400, FrenchMarket.org) offers a perfect starting point for a day in the French Quarter, from the café au lait from Café du Monde, gourmet coffee from PJ's Coffee, a hearty breakfast from Market Café or a bite from the various French Market farmers market vendors. After fueling for the day, a visit to the famous French Market flea market is always in order with its quirky offerings that range from New Orleans-themed souvenirs to fashion, art and accessories. Open daily from 10 a.m.-6 p.m., the flea market hosts approximately 150 vendors on weekdays and 250 on weekends.

...

Between the shopping and art, it's easy to work up an appetite in the French Quarter, which is probably the best neighborhood in the world in which to find yourself with a hankering for flavor. Whether you're looking for a light lunch to sustain you along your adventure or a leisurely afternoon meal, Red Fish Grill can accommodate it all with its varied, seafood-focused menu.

"Chef Austin, our Executive Chef, has done a great job," says Dwyre McComsey, General Manager. "He offers a variety of fresh fish – local, from the Gulf, anywhere from seven to 11 fresh varieties daily – and he grills the fish over a hickory wood fire." The fish is then served with a choice of specialty sauce (Lemon Butter, Louisiana Citrus Glaze, Ginger Soy, etc.) and a locally sourced Covey Rise Farm vegetable of the day.

If grilled fish is too light a lunch for you, a top seller is the BBQ Oyster Poboy, which features flash-fried oysters tossed in a spicy Crystal BBQ sauce and topped with a housemade blue cheese dressing. The poor boy also comes dressed with lettuce, tomatoes and pickles and is accompanied by a creamy Creole potato salad. The poor boy was named "Best Seafood Po-boy" four years in a row at the Po-boy Festival, and is perhaps best washed down with a refreshing afternoon cocktail such as a Pimm's Cup or the Red Fish Grill Lemonade.

...

Read complete article below...
www.myneworleans.com/St-Charles-Avenue/April-2016/Vieux-Carr-Views/