SHOW CONTENT
Gone Fishin' … Chefs Take Pride in Gulf Coast Seafood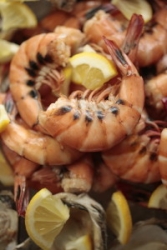 April 8, 2013

[editor note: as an editor, I live in a world of pr, pitches and blitzes (not blintzes) and it's not always pretty. Then some folks have a way of taking care of their clients and touch a socially relevant topic at the same time. Simone Rathle with simoneink is one of the good ones. While promoting her chefs and restaurants, she shares the message that I wrote about in our Seafood Issue in March: the Gulf Coast is alive, well and a great resource for seafood. I love the local access we have here with the Chesapeake Bay ... but there's nothing wrong with some good American shrimp, oysters and crab from the Gulf Coast. As a matter of fact, in the hands of a talented chef, it tastes mighty damn good. Read on and see what Simone shares with us!]

As the third anniversary of the BP Oil Spill approaches on Saturday, April 20, 2013, and the civil trial rages on in search of a just solution to a dreadful disaster, chefs and restaurateurs avoid the waiting game for results and continue to purchase Gulf seafood and keep the fishermen in business. These proponents of Gulf seafood have kept it front and center on their menus … In the thick of it, "NOLA Bred, NOLA Fed," Ralph Brennan literally wrote the book on New Orleans seafood: the acclaimed Ralph Brennan's New Orleans Seafood Cookbook. A tireless supporter of Gulf seafood, he has testified before Congress and continues to lecture at restaurant associations across the country. At Red Fish Grill, the French Quarter flagship of his popular family of restaurants, it's hard to find a dish without Gulf seafood – especially when he receives roughly 4,000 Gulf Coast Oysters per week to Red Fish Grill alone. His continued support and patronage of the local seafood became clear when Red Fish Grill served the 3-millionth BBQ Oyster, which is flash fried with Crystal Hot Sauce and Housemade Blue Cheese Dressing. Gulf seafood is all over this menu like white on rice. "Fin Fish from the Gulf" have a category of their own, the star of which is the eponymous Red Fish.

...

To view and read the full article, follow the link below.


www.foodservicemonthly.com/gone-fishin-chefs-take-pride-in-gulf-coast-seafood/