SHOW CONTENT
10 decadently delicious Easter dessert recipes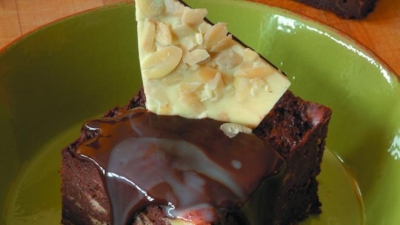 March 29, 2013
By Shannon Witte


While working on this piece I found myself at a loss for words. I wanted to include my thoughts on spring and rebirth, the use of fresh and seasonal ingredients, and then tie it up in a nice Easter bow. But, letís be real for a minute and remember these are desserts.

They are sweet, chocolate, creamy, and decadent desserts that are so good it will put your Easter basket candy to shame. Each one has been created by talented chefs from all over the country.

So pick one or pick three and add them to the Easter menu. After all, this is one of the sweetest holidays around.

...

#3 - Chocolate Bread Pudding with Two Chocolate Sauces & Almond Bark

There is only one way to describe this dessert; rich! The New Orleans Restaurant Red Fish Grill creates a deep chocolate flavor using several different kinds of chocolate.

...

For access to the recipe- http://www.foxnews.com/recipe/chocolate-bread-pudding-two-chocolate-sauces-almond-bark


To view the full article, click below.
www.foxnews.com/leisure/2013/03/29/perfectly-sweet-easter-desserts/