SHOW CONTENT
"Best Seafood Po-Boy" at Po-Boy Fest 2011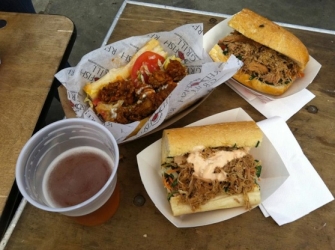 Year after year, "best" lists in New Orleans cover the same familiar po-boy shops; inevitably, national coverage of our food scene mirrors these lists and eventually, for visitors coming to New Orleans in search of the best po-boy, it can seem like there are only five po-boy shops worth going to.

The fact is, it's hard to find a bad po-boy in this town, and we can say this about the winners of the 2011 Oak Street Po-Boy Festival: the judges don't play favorites. Po-Boy Fest manages to break away from the pack every year with a list of winning po-boys that show there's more to the beloved sandwich than fried seafood and roast beef. Local favorites like Parkway Bakery & Tavern and Mahony's may represent, and high-end restaurants like Emeril's, GW Fins and Coquette bring a touch of class to the table, but the winners this year (and in years past) are a curious mix of local and sometimes chain restaurants not exactly known for their po-boy prowess.

Best Specialty Seafood: Shrimp Remoulade Po-boy
Winner: The Ridge Bistro and Deli (1827 Hickory Ave., Harahan, (504) 305-4195)

Best Specialty Seafood (Shrimp): Shanghai Shrimp Po-boy
Winner: WOW Wingery's (multiple locations)

Best Specialty Seafood (Non-Shrimp): Flash Fried Oyster Po-boy
Winner: Redfish Grill (115 Bourbon Street, (504) 598-1200)

To read the complete article, visit the link below.
www.dining.neworleans.com/2011/11/po-boy-fest-2011-winners-announced/