SHOW CONTENT
BBQ Oysters are the Best He Ever Tasted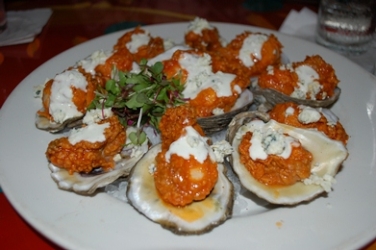 June 13, 2011
By Larry Olmsted, Forbes.com


Are Oysters the New Sushi?

Diamond Jim Brady, a jewel encrusted behemoth and turn of the 20th century social equivalent of the Kardashians, was said to preface his famously huge dinners with two to three dozen raw oysters before moving on to multiple courses fit for a dozen eaters. What gets less press is that Brady enjoyed oysters at lunch almost daily as well. While historians have recently questioned whether he actually consumed several lobsters, steaks, birds and pies nightly, there is no doubt he ate a lot, and that he ate a lot of oysters.

Diamond Jim must be smiling right now. Oysters are back.

.....

My journeys recently took me to New Orleans, one of the world's greatest gastronomy cities, where oysters are a beloved institution, and to across the street longtime rivals the Acme Oyster House and Felix's. In the Big Easy, there is no choice of a dozen types of oysters from around the world: there are local gulf oysters, and it is simply a matter of how many you want. Unfortunately, Berkowitz was right about cold water vs. warm water, and the oysters of New Orleans, while they lack nothing in the way of charm, are simply not good in comparison with those of New England and the Pacific Northwest. While sitting at the bar at either of these institutions is a pleasure, try something else, like a Po Boy, because I can't recommend the oysters, unless you go for one of the unusual versions, like grill roast in the shell and topped with cheese.

But the good new is that on my New Orleans trip a winner did emerge, one of the tastiest dishes I have ever had, which I can emphatically recommend as a pilgrimage. The barbecue oysters at Redfish Grill, in the heart of the French Quarter, are exceptional. Basically they are fresh oysters removed from the shell, breaded in cornmeal, flash fried, tossed in a butter and Crystal hot sauce mixture, then returned to the shell and heated while topped with a blue cheese crumble. Sort of the oysters answer to the buffalo chicken wing, and a fantastic answer at that!

"The signature "BBQ Oysters" at Redfish Grill in New Orleans are simply one of the best restaurant dishes I have ever tasted."

To Read the Full Article visit the link below.
www.blogs.forbes.com/larryolmsted/2011/06/13/are-oysters-the-new-sushi/