SHOW CONTENT
Breakfast of Champions: Pre-Game Eats at the Dome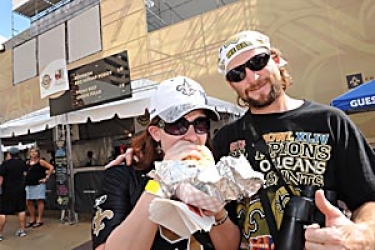 September 7, 2010
By Ian McNulty


Champions Square
Pre-game eats at the Dome put Creole flavor in the starting lineup

The New Orleans Saints proved our city had the NFL's best team last year. This season, another team of New Orleanians is proving we have the league's best food as well.

This team is a collection of local restaurant industry heavies who have turned the new Champions Square festival grounds just outside the Louisiana Superdome into a showcase of distinctive New Orleans flavors. From a ring of tented vending booths, they greet the Who Dat nation before each home game with hand-held feasts that put the food available inside most stadiums, including the Superdome, to shame.

Superdome officials run the show at Champions Square, which does not require a ticket for entry. To ensure the eats would really shine, the Dome's overall food service provider, Centerplate Catering, subcontracted with local restaurateurs.

Champions Square made its debut in August during the Saints' two exhibition home games, and I used these preseason events to test the field. People who have eaten their way through a day at Jazz Fest will recognize the format, as well as the related skill of juggling foam plates and cans of beer. At $8 or $9 each, the dishes can seem pricey. But compare the quality and even the portions you get in Champions Square with typical stadium fare and they look like better deals.

Some of the dishes come straight from restaurant menus, including Galatoire's iconic shrimp remoulade and its thick, dark, country-style duck gumbo, which chef Brian Landry says is a new menu addition. At the adjacent booth, Acme Oyster House serves a good shrimp po-boy, though its chicken and andouille gumbo can't compare to Galatoire's version.


Choosing between shrimp beignets or shrimp and grits at the Red Fish Grill booth, I'd pick the latter every time. It's a masterpiece in a plastic bowl, with large, lightly charred shrimp and chunky tomato sauce over dense grits.


Click the link below to continue reading.
www.bestofneworleans.com/gyrobase/Content?oid=oid:81058